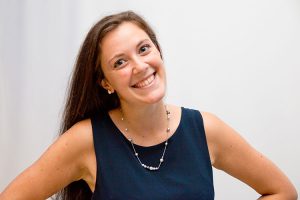 How would you describe yourself in 3 words?
Enthusiastic, curious, … and (just a bit) stubborn!
Brief background/short CV
I am a Postdoctoral Researcher in Professor John Sutherland's group at the MRC Laboratory of Molecular Biology in Cambridge where I am studying the chemical origin of extant life. I completed my PhD in Biomolecular Sciences in December 2017 at the University of Trento (Italy), working with Professor Sheref Mansy on the origin and catalytic activity of ancient proteins. I have experienced interdisciplinary research in international teams across Europe and US and supervised high school students and undergraduates in Inorganic and Biological Chemistry for 7 years.
I grew up in Siena, Italy. My first Science teacher ignited my love of science when I was 6 years old. I studied Chemistry in Italy (Siena, Padova, and Trento) and then I moved here to Cambridge for a postdoc position… It seems I don't like to live in the same place for too long! I love cooking (and then eating!), spending time with friends, watching TV series. The best thing is that you can do all at once!
What do you do?
I have always been captivated by the question "How did life first evolve?" At work I am trying to understand how life began on Earth: I design and carry out chemical reactions in the lab to recreate the essential building blocks of life.
Brief description of a typical day
My working day normally starts talking about projects and experiments with my colleagues and my boss. After (a bit of) reading and (a lot of) thinking, I am finally ready to start my experiments! Since I am usually more productive in the lab in the morning, I spend the afternoon analysing data, and reading scientific articles.
What's the best thing about your job?
Every time I have an unexpected result… which means there is still a lot to learn before answering my scientific questions!
"It is the journey, and not the destination that makes our life more meaningful" (Paulo Coelho)
If you weren't doing this job, what would you be doing instead?
I guess a Science teacher (I still have time to change my mind!)…
Your top tip for someone thinking about a career in science?
Be curious, be accurate, be a dreamer.
"Somewhere, something incredible is waiting to be known" (Carl Sagan)
What or who inspired you to follow your career?
My first Science teacher. She made me love Science (and candies) since when I was 6 years old.
What did you want to be after you left school?
I think I just wanted to be free to choose my vocation. Then the academic world inspired me… and here I am!